Inverness City Highland Games 24th July 2004

By Elspeth Menzies Findlay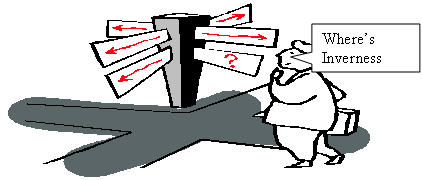 Little did I know that when Sheila the Clan Society Secretary, emailed me to say that the Clan Chisolm Society were sponsoring a marquee at the Games to promote Scottish clans, I would find myself offering to host a Menzies Clan Society table. Membership is poor in that region and any chance to promote the clan is worthy of a bit of effort.
I was looking forward to meeting the other membership secretaries and finding out how they managed their databases, printed their labels and encouraged annual members to renew. In fact all the challenges, that I had found so testing in my first year, as an ex- nurse come membership secretary were, I hoped, about to be resolved! Networking, that's the name of the game I told myself. Moreover, I had had a most encouraging phone call from Tom Menzies in Dingwall. In response to my appeal in the clan magazine he had offered to give us some memorabilia from his parents to display on the table. Yes I would pop in, I told him, and collect what ever he had to offer.
We had left Edinburgh the night before the Games, driven up to Inverness, booked into our Bed and Breakfast, and then dashed out again to head north to Dingwall to meet Tom.
Following his instruction, we arrived on time at a picturesque mill house. Surrounded by a pond with ducks and willow trees, we were intrigued. Lying at the door was a pair of hastily discarded green welly boots and garden paraphernalia. Tom appeared and led us into a charming old house. It was filled with portraits of past family members, Seaforth Highlanders and all kinds of interesting nick-nacks.
A wonderful two hours was spent hearing stories of local Menzies' and meeting Tom's brother Ian. It transpired that they were triplets, born in the Fifties on Christmas Day. I was shown the front page of the local paper. Wrapped tightly in their white woollen shawls, were three healthy robust babies making the lead story. No ultra sounds scans, diagnostic blood tests, electronic foetal heart monitoring would have assured Mrs. Menzies that her heavy load was thriving and would be safely delivered. I knew she was a petite lady, and marvelled at her courage. I was the mother of twins and had a little understanding of what she must have experienced.
We awoke to grey skies that threatened rain. Our hearts sank as we loaded the car and headed in the direction of Bught Park, where the Games were being held. Frantic activity met our arrival. Pipers were warming up, practising their laments, food was being unloaded onto the various stalls, little girls in colourful tartan kilts and velvet bodices rehearsed their dances, and still the skies grew heavy with black clouds. Thankful for the shelter of the marquee we soon realised that the lashing rain and wind was to our advantage. Wet bedraggled visitors streamed into the tent for shelter. Soon a warm wet atmosphere descended over everyone and my homemade Menzies tablet was sold out in less than an hour. Castle Menzies rhubarb chutney and elderflower cordial came a poor second, as steaming wet anoraks filed past our table.
The Clan Chief David Menzies of Menzies, who lives in Australia, had obviously not been able to make an appearance, but his two sisters Lady Leven and Mrs. Brodie had graciously agreed to help out. Offered for sale were Menzies Castle table clothes, mouse mats for the computer, castle booklets and all manner of Menzies tartan gifts that I had brought up from the castle shop. Lady Hilary Menzies has given us a range of her homespun natural dye Menzies Tartan shawls, and hats. We met some local Menzies', who happened to be passing and were interested enough to take away enrolment forms. They had not realised that the castle could be hired out for private functions. The photo album of weddings and dinners held at the castle was well thumbed through.
One gentleman, a Menzies from Inverness, mentioned that he had a hundred year old Menzies tartan kilt, made by Robert Boyd Menzies of Connel. A young lady from North America headed off with her package of information on how to join the Clan Menzies Society. We even spoke to a Dutch couple who were so impressed with the clan, castle and beauty of the area that they wanted to become associate members.
It was a success and I plan to return next year to repeat the experience. If any one would like to contribute something for the table to sell or exhibit something of Menzies interest please contact me at my email address elpfindlay@hotmail.com. The date next year will be Saturday 23rd July 2005 Bught Park Inverness. I guarantee you will have a great day.